Posted by Nrgleeeeeeflump and WIGGGGNa (or Ted and Alice, as they prefer to be known).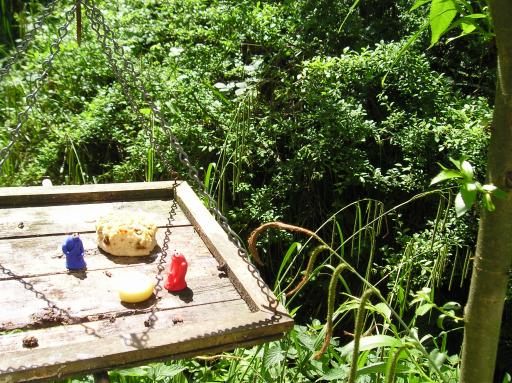 Us Wiggly Pets, being naturally helpful and caring creatures, were horrified when we heard on the news that the poor birds of the UK are starving due to the bird flu epidemic. Apparently, all the humans that used to feed them crumbs and nuts and white stuff in coconut shells have stopped doing so in fear of contracting the illness. We felt very bad for all those little birds, especially with all their bird wiggly woos to feed. I believe the humans call bird wiggly woos, chicks, for some reason.
So me and Alice and some of the guys decided we should feed the birds. We knew that the humans around here have several bird feeding platforms and devices, so we thought we'd put the food out in case the humans hadn't. Well, we checked what our humans had been feeding the birds and were quite aghast! All they were giving the poor things were seeds! Can you imaging that, just seeds and a few nuts? Well we decided we'd make the birds a proper lunch. No wonder the poor things are starving.
With much effort and teamwork (Alice wants to just point out that I was "giving" the orders and know nothing about effort, I personally think that is singularly harsh -leadership has many responsibilities), we managed to extract a piece of cheese from the humans (Alice would like you all to know that I in fact stole it from the humans' wiggly woo which then cried lots, but I reckon it would have only accidentally flung it over the side of its highchair anyway – Alice says that's not the point). We also managed to get a scone.
The team, bless their hearts, got the food onto the feeding platform – I believe the humans call it a "bird table". Anyway, we waited with anticipation for the birds to come and chow down, but we think they were being a bit shy. So we waited and waited and then thought that perhaps they didn't know the food was there, so we clambered onto the bird table and called to them saying, "Grub's up!" and, "It's vittles time!" But before any of them could arrive, one of the humans' cats leapt at us from the open window we'd climbed through. It knocked us clean off the feeding platform!
Still, the next day the food looked a little bit nibbled and the humans only moaned a bit when they had to clean the furring mounds off the bird table three weeks later.
I think it can definitely be said that this was another successful adventure.
Hope to see you all again soon
Ted