Kitten training going well
Posted by Nrgleeeeeeflump and WIGGGGNa (or Ted and Alice, as they prefer to be known).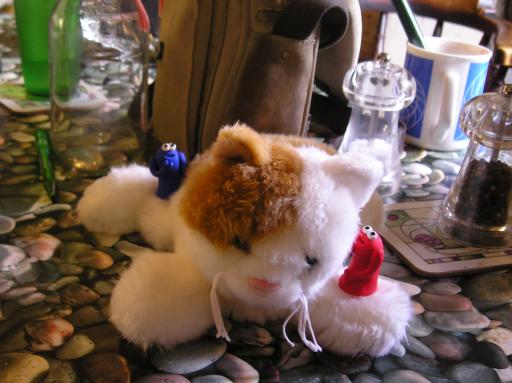 Well Alice has now been training her kitten for about a week and so far it hasn't pounced or bitten anyone! Everyone is very fond of it too we have called it Blue becuase apparently the humans call people with red hair blue for some reason; I'm not entirely sure Alice heared that conversation correctly, but never mind! (She says she did and its because one of the humans comes from a country called Australia and thats what they do over there so I should shut up about things I dont know, I am actually quite hurt by this.)
Anyway we've been trying to get it to eat proper food and none of this mice business; this seems to be going very well – the strawberries we put in its bowl didn't even go furry this last time before they disappeared! The kitten does appear to be a shy creature though, as it never eats or moves in front of us.
Alice and some of the guys gave it a bath the other day and shampooed its fur as it has some stains on it and didnt appeared to be cleaning itself at all! We're thinking it may have been separated from its mother too soon as so didnt learn some of the basics like cleaning itself. Anyway it was actually quite funny becuase they dried it with a hair dryer and it went really fluffy!
Unfortunately they'd forgotten to use any conditioner so it took ten of us an age to comb the fur all flat again!
For some reason one of the humans seems to be cross with us over the kitten – we think it's because they're worried it will take over the existing cats' territories or something and the other human seems to just chuckle the whole time it's around us – not really sure whats going on there to be honest.
Still hope to see you all next week
Ted