Posted by Nrgleeeeeeflump and WIGGGGNa (or Ted and Alice, as they prefer to be known).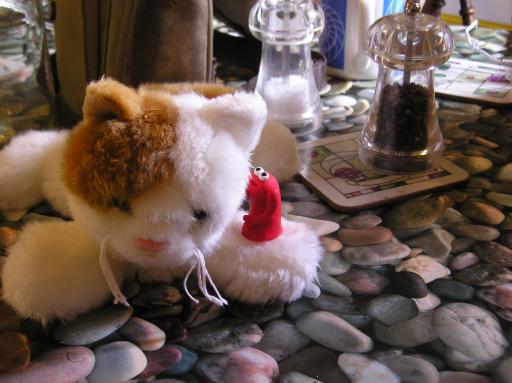 Alice is beside herself with worry and we have all been out searching the house and grounds for Blue, Alice's ginger and white kitten as seen in the photo. We think that perhaps the humans' baby (wiggly woo) has got hold of it and we are concerned for its safety as though the wiggly woo wouldn't mean to hurt it, it is a bit heavey handed and gummy!
Ted
Ammendent: turns out that Blue was with the humans' wiggly woo and the humans informed us that Blue is a toy apparently and not a kitten. Alice refuses to believe this and is hoping to mount a rescue expedition tomorrow. The humans maintain that it was them who took Blue's food away because it had gone mouldy. I don't know what to believe myself and think that even if Blue is a toy it still has feelings and personality and therefore deserves to be rescued from a fate of endless gumming and milky drool!