Posted by Nrgleeeeeeflump and WIGGGGNa (or Ted and Alice, as they prefer to be known).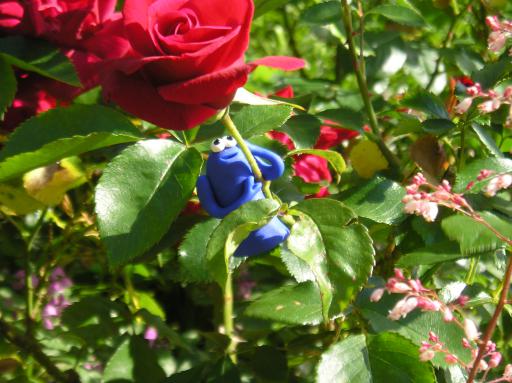 Alice is in a hump with me due to the post I did last week so I thought I'd go and get her a red rose to cheer her up. The humans have a load of these flowers trailing up the the side of the house. I naturally assumed that they wouldn't miss one of them but have since been told off yet again for picking the flowers.
Anyway I had to go to Bench country again to get the rose and it was lots of hard work especially as Alice had hidden (she'll say put away) my climbing equipment but still I managed to get a rose. The only problem I then had was that the rose is about three times my height and top heavy to say the least.
I had to drag it across the gravel river (what the humans call The Drive Way) and it doesn't look as nice as it did but I think Alice will still like it especially when I tell of the daring escape I had from one of the black and white kittens (cat wiggly woos).
See you all next week
Ted
Amendment: Alice managed to prick herself on a thorn and thought I was playing a trick on her so she hit me with the rose until all the petals had fallen off. But then I got to explain and we made rose petal jam with the debris which was fun.